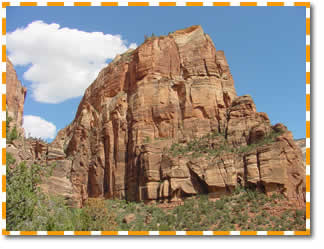 Zion Ponderosa Rappelling
Zion National Park with its towering monoliths and steep sandstone cliffs is a rock climber's haven. Zion is located in the southwest corner of Utah and is home to breathtaking scenery and some of the most beautiful slot canyons in the world. Guided rock climbing and rappelling tours are not allowed within the Park. However, there are several incredible slot canyons located just outside the park's borders that do allow guided climbing. Rock climbing and rappelling in and around Zion National Park is a once in a lifetime opportunity that allows visitors to view the park from a seldom seen perspective.
Zion National Park is also very popular among canyoneering enthusiasts. Zion Narrows, one of Zion National Park's more popular slot canyons, was recently ranked fifth on National Geographic's 100 Best Adventures. Canyoneering is an adventurous combination of hiking, rappelling and rock climbing. If you're thinking of trying out canyoneering, be ready to swim in ice cold water, climb up and down boulders, scale slick rocks and learn the technical skill of rappelling. This sport is not for the timid and faint of heart. Never enter a semi-technical or technical canyon without the knowledge and skills needed to safely explore and return. Many technical canyons also require GPS or excellent map reading skills. If you want to try canyoneering but are not experienced you may join a Zion Ponderosa guided canyoneering adventure.
Zion Ponderosa Ranch Resort is an all-inclusive adventure resort located on the east rim of the Park. The ranch is located high in the pines at nearly 6,500 feet above sea level. Zion Ponderosa offers a variety of lodging options as well as all inclusive meals and activities packages. Aside from offering guided canyoneering adventures Zion Ponderosa is also home to a 40 foot-high climbing wall. We also have a 24 foot-high portable climbing wall available for rent.